Post by Brian on Nov 11, 2013 0:38:20 GMT -5
11/30/07 at 11:47 AM
Angel71242
So was Marion still living there when the cabin was torn down? If so, did he do the tearing down? And what did they do with the wood - besides build the memorial bridge - did they make a big bonfire with it?
Angel71242
11/30/07 at 11:52 AM
Maria
hellooo...Marion never lived there. Arthur and Nina did. Elijah lived in it too for a short period of time. But the house was vacant of all furniture and humans for a good number of years before it was torn down, about what the rest of the wood was used for...Inez brown's husband took some of the wood and made picture frames out of it. One of those frames holds one of the ten original family photos given to Inez's mother by Fannie Lawson.
Maria
11/30/07 at 11:56 AM
Angel71242
Hellllooooooo - he lived right beside of it!!! That's what I meant when I said "there"
Angel71242
11/30/07 at 12:10 PM
Maria
Maybe I'm wrong but I don't believe Marion lived right beside Charlie's house. And Marion died in 1967 so he was dead long before the house was torn down.
Maria
11/30/07 at 12:31 PM
Angel71242
It seemed like, in Trudy's book, that Stella lived very close to the cabin. She would visit over there a lot. But I guess that walking back then was different than now. They'd probably walk 2 miles back then like it was nothing!! So, I will say I must have been wrong . Sorry!!
Angel71242
11/30/07 at 12:37 PM
Maria
Back then most of the people, especially children, could easily walk 10 or 15 miles. The two houses that were closest to Charlie's house was the Wagoner house (now Squires Inn) where Ruby Savage, one of Marie's best friends lived. It was about a mile away. And the house that Arthur built which was about a mile away also.
Maria
12/02/07 at 08:36 PM
NascarLover
When I was in grammar school me and my brothers walked 3 miles to school every day. Even when it snowed. We didn't get days off for snow back then like they do now.
NascarLover
12/05/07 at 04:53 PM
douglasboulding
Uncle Marion lived on Red bank road about 2 miles from the Lawson's graves when he died
keneth d boulding
douglasboulding
12/05/07 at 04:55 PM
Angel71242
Thank you for that info douglasboulding!
Angel71242
12/08/07 at 05:23 PM
Michael818
People did walk a lot more back then. A lot of people don't realize, but in rural NC, people still used horses and even
wagons well into the Twentieth Century. My Mom and Dad grew up during the Depression and WW2, and they can
remember horses and wagons on still-dirt roads. They can also remember winters when you could drive one of those
old cars out on the ice of the Yadkin without breaking through!
Michael R.
Michael818
12/08/07 at 10:46 PM
doodlebug
My grandmother tells about being taken to the hospital in the back of a wagon...she'd been accidentally hit in the head with a baseball bat. She was...13? at the time, so this would have been 1932 or '33. They did have a truck at the time, but with a large family, still used the wagon more than the truck.
doodlebug
12/09/07 at 12:30 PM
Maria
One reason they may have walked rather than ride in a car or even a wagon is that back then I've been told most of the roads were sand clay roads and when it rained those roads were very muddy. Sometimes the ruts were ankle deep. It would be hard to drive anything on roads like that.
Maria
12/09/07 at 05:00 PM
Michael818
Very true. I don't believe most roads were paved in Northwest NC til later on.
Michael R.
Michael818
12/13/07 at 09:11 PM
LuvMyDog
"Before the 1920s most of North Carolina's roads were dirt' I found this article about North Carolina roads and how it started and thought I would pass it along.
North Carolina's Mother of Good Roads
ncmuseumofhistory.org/workshops/womenshistory/berry.html
Luvmydog
12/13/07 at 09:40 PM
Maria
That was really interesting Michelle, thanks for finding and posting it. What amazed me was how much time,effort, and hard work that woman put into something like getting a paved highway going. Her tenacity was absolutely phenomenal. You don't see that kind of perseverance and dedication in very many people anymore.
Maria
12/13/07 at 10:49 PM
LuvMyDog
I know Maria........She kinda reminded me of you.......you put your hard work and effort into what you do too......who
knows, maybe one day someone will be writing an article about you!!
LuvMyDog
12/13/07 at 11:03 PM
Maria
If so, I hope it's someone who likes me!!!!!!!!!
Maria
12/14/07 at 09:54 AM
Angel71242
Quote:
Originally Posted by Maria
Her tenacity was absolutely phenomenal. You don't see that kind of perseverance and dedication in very many people anymore.
End quote:
I see it right here in this forum every day!! Talkin' bout you Maria!!
Angel71242
01/07/08 at 05:55 PM
Maria
Angel, Although it took me 6 weeks I finally found that frame made from some of the wood taken from the floor of the Lawson house that Inez Brown's husband used to make a picture frame from. The photo in the middle of the Lawson family is one of the original photos that Fannie Lawson gave Inez's mother Cassie Heath back in 1929.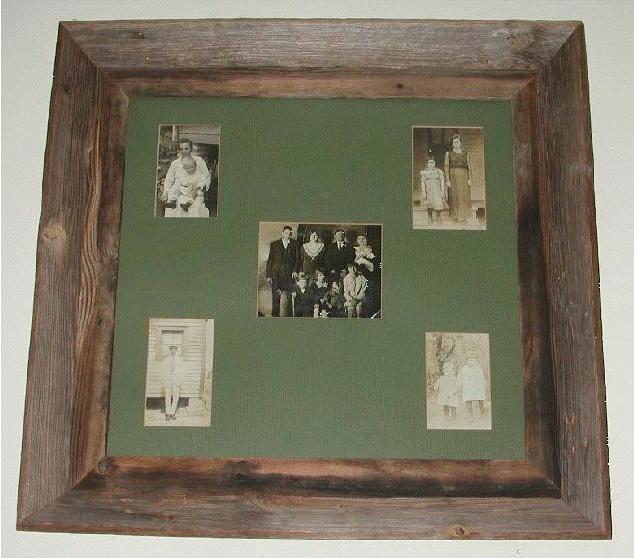 Maria
01/08/08 at 02:34 AM
hillbillyghosthunter
Thanks for sharing that Maria. Who are the other people in the pic?
hillbillyghosthunter
01/08/08 at 07:56 AM
Maria
I don't remember who she said they were. I'll let you know when I talk to her again, if she doesn't mind me revealing their identity that is.
Maria
01/08/08 at 10:33 AM
Angel71242
That is absolutely awesome!!!!!!!!! I love it!!!!!!!!!!! And the family pic being one of the original that Fannie handed out...that is just too cool!!! Great find!!!!!!!!!
I wonder if anything else has been made from the wood from the cabin?
Angel71242
01/08/08 at 10:38 AM
Maria
Other than another frame made from the wood and the covered bridge I don't know of anything else. The lady who owns Squires Inn has a brick that came from the chimney of the Lawson house.
Maria
01/08/08 at 10:41 AM
Angel71242
Well if she's got one, 1 bet others do too!
Angel71242
01/08/08 at 10:44 AM
Maria
oh yeah. Patrick Boyles has one. And I've heard lot of people do. But only Inez has picture frames made from the wood.
Maria
01/08/08 at 10:54 AM
Angel71242
The picture frame is waaaaaaay cooler!!!
Angel71242
01/08/08 at 01:17 PM
Maria
It sure is Angel. I wish I had one. There's more of a physical connection with the family than a brick from the chimney is. Fannie and Charlie and the children and everyone else who visited there walked on that wood plank floor. Their foot steps have left an aura on it.
Maria
01/08/08 at 01:29 PM
Angel71242
I wonder if there was more than one picture frame made? Any idea?
Angel71242
01/08/08 at 02:07 PM
Maria
Inez had 2 of the frames made but I don't know of any others.
Maria
01/08/08 at 04:14 PM
Angel71242
I wonder what pics they put in the other frame.
Angel71242
01/08/08 at 06:29 PM
Maria
I finally caught up with Inez. The man by himself in front of a house...bottom left hand corner was her Uncle, Jonas Gibson. Jonas Gibson was the brother of Fannie Lawson's friend Cassie Heath who was one of the ten people Fannie Lawson gave one of the photos of the family portrait to in 1929. The lady with the young girl in the top right hand corner was Fannie Gibson who was married to one of Cassie Heath's brothers. She couldn't remember the daughter's name. The two young children in the bottom right hand corner were Fannie Gibson's other 2 daughters (she couldn't their names either.) And she didn't know who the woman holding the baby in the top left hand corner was.
Maria
01/08/08 at 10:31 PM
doodlebug
That is incredible! I'm betting it's one of her most prized possessions....it does seem more personal than a brick or stone. Wood has a warmth to it that they don't possess.
And the pictures are awesome!! Imagine having an original of the picture that was actually given to a family member by Fannie....
doodlebug
01/08/08 at 11:50 PM
Maria
You said that right Doodles. A gift straight from Fannie's heart to her hand. Anything from Fannie Lawson, be it a photo, a handkerchief, a skillet, whatever, would be priceless considering what happened to her. Charlie Wade Hampton prized that Christmas card he received from Marie Lawson so much he kept it all his life. But if those murders had not happened and Fannie had lived to a ripe old age, the family portrait of her and her children would be without meaning. There would be nothing special or memorable about her or her home.
Maria
01/10/08 at 11:39 AM
Angel71242
What a thing to be remembered for! I'd rather go through life unnoticed!!
I'm sure you have said in here before, but any ideas about what happened to that Christmas Card?
Angel71242
01/10/08 at 01:01 PM
Maria
It was burned up with everything else when Charlie Wade died when his house caught fire.
Maria